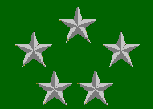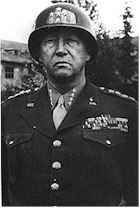 GEN George S. Patton, Jr., known as "Old Blood and Guts," was one of the most colorful commanders in the US Army. The
famed commander of the Third Army during World War II displayed courage and daring as prominently as the pair of ivory
handled revolvers he wore.
Patton was commissioned in the Cavalry after his 1909 graduation from the US Military Academy. He gained a reputation for
his ability, energy, marksmanship, and superb horsemanship early in his career. Patton was a pioneer in many areas. In 1912,
he was the first American to compete in the Modern Pentathlon, an event stressing horsemanship, in the Olympic Games held in
Stockholm, Sweden.
Patton was promoted to captain in 1917, after participating in GEN John J. Pershing's Punitive Expedition into Mexico.
Following his promotion, he joined Pershing's staff in the American Expeditionary Force and was sent to France. He became
the first member of the Tank Corps and organized the First American Tank Training Center at Langres, France. Patton
organized and commanded the 304th Tank Brigade during the St. Mihiel and the Meuse Argonne offensive. He received the
Distinguished Service Cross and the Purple Heart during the Meuse Offensive.
In the early years of World War II, Patton played a major role in the North Africa and Sicily Campaigns. But, he is best
remembered for his command of the Third Army during its drive across France. The Third pushed through the German
defenses and captured thousands of prisoners before being forced to stop, due to a lack of logistical support, at the Seine and
Meuse Rivers.
Patton accomplished one of the most remarkable feats in military history in December 1944, when he quickly turned the Third
Army northward to reinforce the Allied southern flank against the German attack in the Battle of the Bulge. The Third Army's
4th Armored Division, spearheaded by LTC Creighton Abrams' 37th Tank Battalion, rescued and relieved the "Battered
Bastards of Bastogne," the 101st Airborne Division. By the end of January 1945 Patton's forces had reached the German frontier; on
March 1 they took Trier, and in the next 10 days they cleared the entire region north of the Moselle River, trapping thousands of Germans. They then joined the 7th Army in sweeping the Saar and the Palatinate, taking 100,000 prisoners.
The General's doctrines for aggressive employment of massive Armor forces continue to prove themselves in combat areas
around the world.